Free Events at the Chicago Cultural Center
January 18, 2018
|
Educational
|
Entertainment
|
Events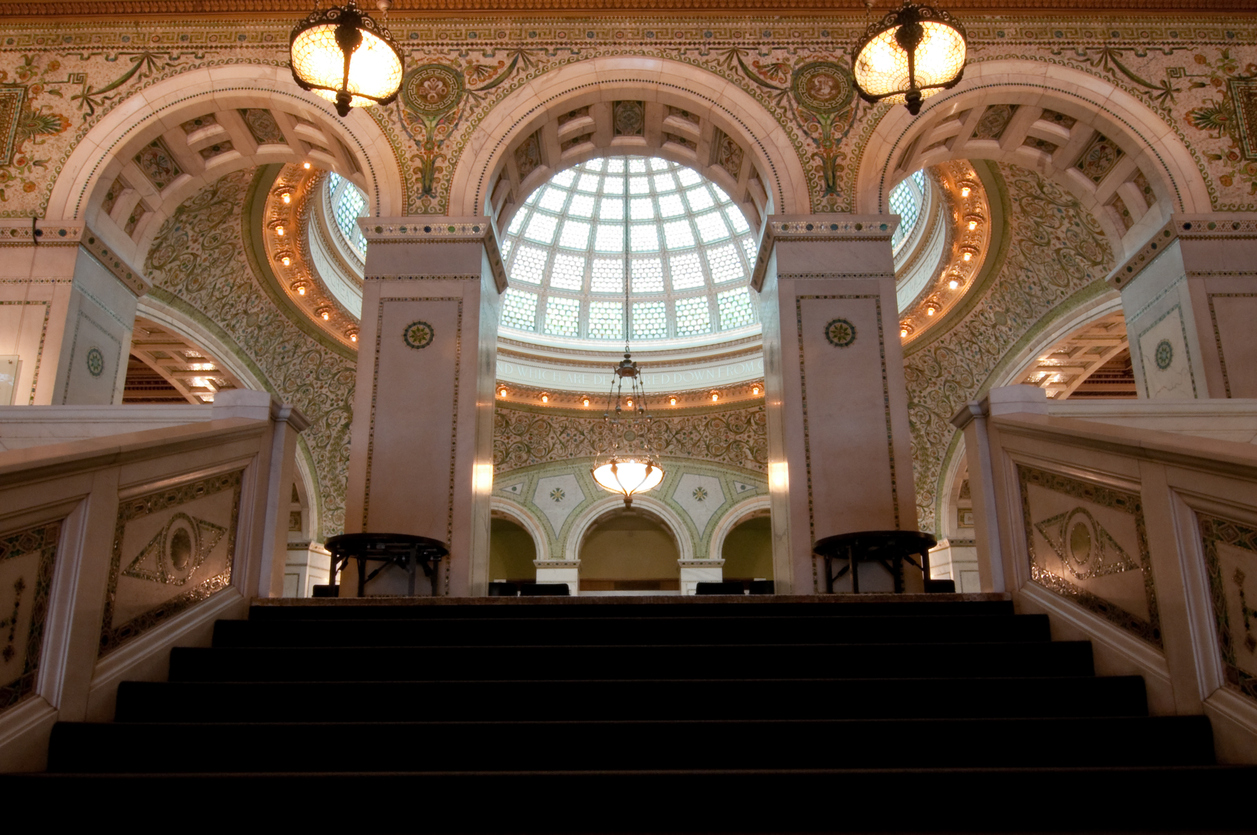 The Chicago Cultural Center hosts a wide range of rotating exhibits and community events throughout the year. The center's events are free, and the historic building also offers tours. Best of all, this cultural wonder is just a short distance from your home at One Eleven!
About the Chicago Cultural Center
One of Chicago's most visited attractions, the Cultural Center offers a wide variety of free public events that attract hundreds of thousands of visitors each year.
The historic building was completed in 1897 and was Chicago's first central public library. The building was also a grand symbol of Chicago's evolution into a "sophisticated metropolis." The building materials include imported marble, polished brass, beautiful hardwoods, and intricate mosaics. To top it all off, the building is home to the world's largest stained-glass Tiffany dome.
The building became the Chicago Cultural Center in 1991 and is home to the nation's first "free municipal cultural venue." Today, artists, musicians, and performers from all over the world showcase their knowledge and their art for the public.
Music
The Chicago Cultural Center offers free music performances year-round. Current offerings include Chamber Mondays and Dame Myra Hess Concerts on Wednesdays.
Chamber Mondays explore the vast diversity of chamber music. These performances feature classical, jazz, and world-renowned instrumentalists and vocalists from Chicago and beyond. Coming up, you'll have the chance to enjoy performances by members of the Musicians Club of Women as well as a performance of Dvorak's F minor trio.
The Dame Myra Hess Memorial Concerts take place every Wednesday and showcase emerging performers in classical music. Upcoming performances include piano soloists and solo vocalists as well as a reed quintet.
Be sure to consult the calendar for more upcoming events!
Theater and Dance
Along with music events, the Cultural Center also offers an ongoing performing arts series that showcases performers in theater and dance. There are two exciting (and free!) opportunities to experience beginning in late January.
Temporary Distortion: The Illusion and Aftermath is a performance art piece that unfolds over the course of six hours. The audience is provided with meditation cushions and headphones and can leave whenever they wish. Performances take place between January 19th and January 28th.
Project Tool is a dance piece that explores the relationship between the mind, body, and tools. Dancers collaborate with saws, hammers, and nails as though working with a dance partner. These experimental performances will take place between January 25th and February 8th.
Exhibits
The visual arts program at the Chicago Cultural Center is well known for its rotating visual exhibits. You will also find lecture and panel discussions which offer in-depth education and exploration of the displays. Upcoming exhibits include Nina Chanel Abney: Royal Flush and Chicago Architecture Biennial Installations.
Abney's paintings explore narrative figurative painting as well as contemporary urban life. This exhibit will feature 30 paintings from the past ten years of this Chicago-born artist's work. This exhibit opens on February 10th and will be on display until May 6th.
The Chicago Architecture Biennial was an exhibition of contemporary architecture. Although the complete exhibit has closed, several installations are still on display.
---
The Chicago Cultural Center is one of the best perks when living in this exciting city. If you're looking for a luxury apartment in Chicago, please contact us. We are right in the middle of the action, in close proximity to incredible shopping and dining as well as entertainment venues. We can't wait to show you around!