Try Some of the Best Sushi in River North
October 15, 2015
|
Dining
|
Neighborhood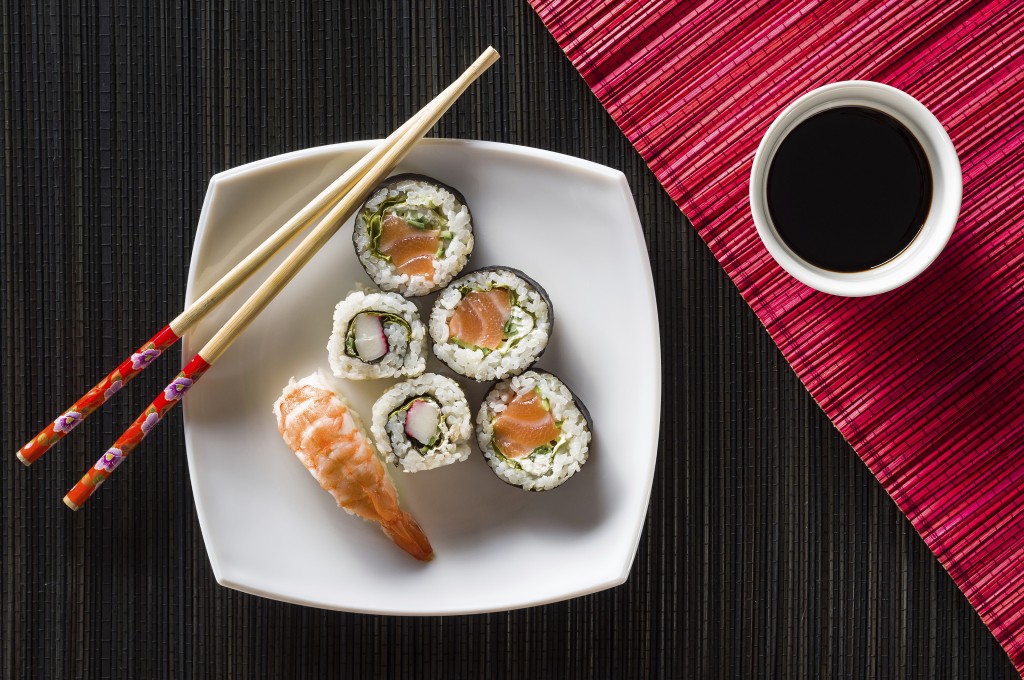 Believe it or not, sushi wasn't always this ubiquitous.
Even in its homeland, Japan, sushi was considered a "special meal for special occasions"—not something you pick up from 7/11 in a pinch. And though it feels like it's been in America since the dawn of time, the first American sushi bar wasn't even opened until 1957—and it wasn't very popular.
Fortunately, things have changed. Today, the River North neighborhood is full of fantastic sushi restaurants where we could eat every day if we wanted to. All of them offer some unique twists on classic rolls, true to American form.
We're highlighting three of our favorite restaurants for sushi in River North that even casual sushi eaters will go gaga over. Read on, and prepare to get hungry.
Roka Akor Chicago
456 N Clark St, Chicago, IL 60654
This isn't the most authentic Japanese-style sushi restaurant (i.e., rice is outside nori, jalapenos top certain rolls), but they don't pretend to be. Anyway, that's not why you'll want to come here. You'll come here for the breathtaking platters of artfully served fresh seafood, for fresh shavings of black truffle, and for their darkened interior, calm ambiance, and professional service. Roka Akor isn't your average sushi spot for these reasons, and more—which could help explain the long list of rave reviews and the Michelin Guide recommendation.
Rolls to try: Yuzu Miso Marinated Black Cod, Hamachi Serrano Chili
Sunda
110 W Illinois St, Chicago, IL 60654
If we had to choose one word to describe Sunda, it would be decadent fusion. The sushi here, like Roka, is non-traditional, but often made with explosive flavors. Ingredients such as fried sweet potatoes, fried foie gras, pear, potato chips, and jalapeno make frequent appearances, and there's a separate menu for vegetarians. The atmosphere is similar to Roka, with a calm upscale ambiance and a music volume that makes it easy to talk. Oh, and the drinks here are delicious and inventive too—they serve a Bloody Mary that's essentially a meal (that in itself might be reason enough to visit.)
Rolls to try: Spicy Tuna, Rock Shrimp Tempura
Union Sushi + Barbeque Bar
230 W Erie St, Chicago, IL 60654
Union Sushi + Barbeque Bar describes its approach as "playful," and we tend to agree. "Global" is another word that comes to mind, as many Maki rolls feature flavors from around the world. Smoked Super White tuna rolls, for instance, hint at Italy with tomato, parmesan, chives, and butter. The aptly named "Bay Street California" roll showcases the West Coast with fresh crab cake, crunchy cucumber, masago, and spicy mayo. This is the type of sushi joint you head to for a casual lunch with coworkers.
Rolls to try: Shrimp Tempura, Black Rice Sushi Sampler
Looking for place to live close to all of the best restaurants in Chicago? OneEleven apartments could be the one. Get in touch with us today to learn more about leasing a gorgeous luxury apartment in Downtown Chicago today.