Explore Near North Side: Best Chicago Music Venues
August 6, 2015
|
Local Business
|
Neighborhood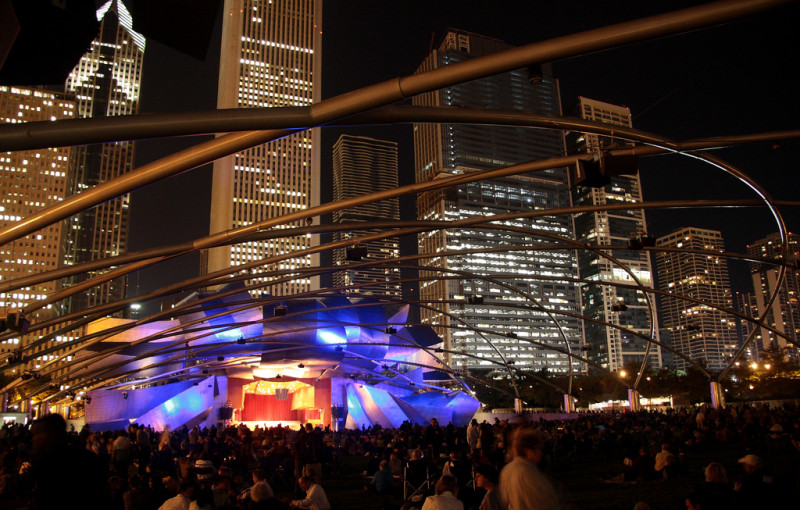 Chicago is known for its great music, and OneEleven is close to all the action. Here are some of the best Chicago music venues close to your OneEleven apartment.
Underground Wonder Bar
You may not be as familiar with Underground Wonder Bar, but you should be. They have performances every day of the year put on by local musicians. They also serve fantastic food and drinks that will give you energy to rock the night away. You might need it since it could be a long night, or morning–they're open until 4 a.m.!
Upcoming performances: Lonie Walker Soulo (8/7), Fletch Towell Band (8/10), Tamarie T. and the Elektra Kumpany (8/11).
Chicago Theatre
There's a good chance you're familiar with the Chicago Theatre and its history. The popularity of the Chicago Theatre has continued for good reason— it puts on some great shows. Some of the most popular performers in music and comedy perform here regularly. It's also just a beautiful building to experience at least once, but hopefully many times.
Upcoming performances: American Idol Live! (8/8), Chris Cornell (10/6), Josh Groban (10/6-7), Grace Potter (10/23).
House of Blues
If you want to see the latest in alternative and rock, you'll want to check out the shows at the House of Blues. They also have food and drinks, so you can spend an entire evening here. Get your tickets soon, because some shows sell out fast!
Upcoming shows: Social Distortion (8/11), Keithen Bank (8/18), Tribal Seeds (9/10), Owl city (10/15).
Jay Pritzker Pavilion
You've probably passed Jay Pritzker Pavilion when walking through Grant Park, but you need to make sure you attend a show there. One of Chicago's most notable venues, the Pavilion hosts large and small artists, as well as many events.
Upcoming shows: Idina Menzel (8/16).
Blue Chicago
If you want to hear the blues, make sure to attend one of the shows at Blue Chicago. Local blues musicians perform here regularly since 1985. It's in the heart of River North's entertainment district, and super close to your OneEleven apartment. Check out their website for a list of upcoming performers.
Upcoming shows: Tenry Johns Blues Band with Claudette Miller (8/8), Maurice John Vaughn Blues Band with Demetria Taylor (8/15).
If You Just Want to Dance
Howl at the Moon calls itself "the total entertainment experience," and we're apt to believe them. Their music is perfect for dancing the night away, and you can hear examples of it on their website to see if it's what you're looking for. Plus, they've got great drinks to quench your thirst after you've worked up a sweat.
Learn More About OneEleven Apartments
To learn more about living in a luxury Chicago Apartment close to great entertainment, contact OneEleven.
Image Source: Flickr