Best Chicago Food Near OneEleven
July 2, 2015
|
Dining
|
Local Business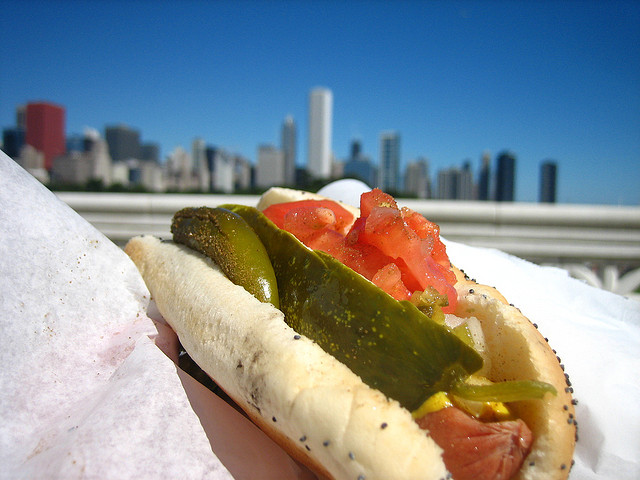 Everyone knows Chicago is famous for its food. From deep dish pizza to the Chicago dog (don't dare add that ketchup!) to the best Italian beef, Chicago is the premiere location for diverse and unique food options that will never disappoint. Here are some of the best restaurants serving the classics near your OneEleven Chicago apartment.
Deep Dish Pizza
Chicago loves its deep dish, but not every place does it right. Here are some of the best and most well-known places around you:
Lou Malnati's Pizza (439 N. Wells) : It's a staple, and while you may get confused when a Chicagoan pronounces it, you won't be confused by its great taste. The first Lou Malnati's opened in 1971 and stores have been popping up throughout the Chicagoland area ever since. Its pizza is completely handmade, which leads to a fresh taste every time. The crust is flaky and the sauce is rich and fresh— it definitely doesn't taste like it's from a can!
Pizzeria Uno and Due (29 E Ohio St. and 619 W. Wabash Ave.): Although Uno has restaurants nationwide now (140 pizzerias in 24 states!), its story began in Chicago in 1943. They claim their founder Ike Sewell was the first to develop deep dish, and the rest is tasty, saucy history. Their pizza dough is made fresh every morning and the flavor pops with every bite.
Italian Beef
Imagine thin slices of seasoned roast beef that are dripping with juicy flavor laid out on an italian-style roll for your enjoyment. This delectable meal also originated in Chicago, and many estimate it's been around since the 1930s.
Al's Beef (169 W. Ontario Street)
Ask any Chicagoan about Italian beef and they'll probably mention Al's Beef. Al's Beef claims that their founder Al Ferrari along with his sister and brother-in-law created the original Italian beef sandwich. They claim the sandwich was created during the Great Depression, because the three needed to slice meat very thin to make the most of their supply. Starting as a neighborhood food stand, there are now restaurants in Illinois, California, Las Vegas, and Texas. Get your sandwich dipped or double-dipped in their awesome gravy!
Mr. Beef on Orleans (666 N. Orleans Street)
It's a solid option for an authentic Chicago Italian beef experience. While it may not have the history of Al's Beef, you will still get delicious slices of beef dripping with sauce in a bun that we suggest you get dipped, but you can also eat it dry.
Chicago Dog
The Chicago dog is an exquisite thing, but it has to be handled carefully. A Chicago-style hot dog is an all-beef frankfurter on a poppy seed bun that is topped with mustard, white onions, sweet relish, a pickle, tomato slices, pickled peppers, and celery salt. And absolutely no ketchup! If that sounds like a mouthful…well, it's is! Below are the best places to get an authentic and delicious Chicago Red Hot.
Portillo's (100 W. Ontario Street)
Portillo's served its first hot dogs from a trailer called "The Dog House" in 1963. It now has stores throughout the Chicagoland area and in four other states, including Arizona. But its classic hot dog menu item is still as Chicago as ever!
Gold Coast Dogs (159 N. Wabash Avenue)
Opened in 1985 in Chicago, Gold Coast's hot dogs do the city right. If you want an authentic and delicious red hot, try out their Gold Coast Dog either steamed or char grilled. It's great for a quick bite.
Not as close, but worth it— Weiner's Circle (2622 N. Clark St.): While Weiner's Circle isn't as close as the above suggestions, it is still a hot dog joint you should know. It is best known for its service, because the servers always make fun of the customers— which may seem strange to some— but customers go to Weiner's Circle for this experience. It's all meant to light-hearted, but it's something you should know going into the situation so you're not surprised!
You can get the best Chicago food only a short distance from your apartment here at OneEleven. To get the real Chi-town experience, contact us find out how you can live in the center of it all at OneEleven Apartments.
Image Source: Flickr