See the World Differently from the OneEleven Rooftop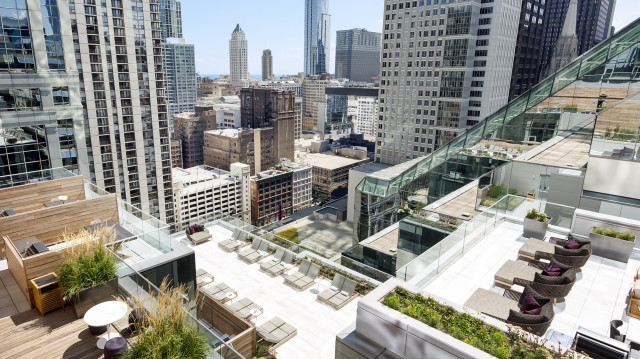 It's no secret that OneEleven Apartments provide features and amenities that you will love! One of these amenities is a two-level rooftop living space that lets you enjoy the outdoors up top. Here are the best aspects of the OneEleven rooftop that allow you to see the world differently.
Your Personal Space in the City
Chicago can be a hectic city— commuting to work on the EL or dealing with car traffic in the city. After a long work day, we all need to get a breath of fresh air in a space we can call our own. While Chicago features wonderful parks and community spaces, sometimes we all need our own space to relax outside. OneEleven offers its residents a calm and intricately-designed space to lounge outdoors with a great view.
Relaxing on the Sundeck
During Chicago's warmer months, the beaches and parks get packed with visitors who want a prime spot to catch some rays. At OneEleven, there is no need to pack up a car and hassle with finding parking— just go up to your sundeck and lounge at the seating provided. There you can relax and read a book or enjoy a conversation with a friend.
Conversation by Fire Pit
Chicago's night-life is hopping, but sometimes we all want the party a bit closer to home. The fire pit located on the terrace is a great spot to gather a group together by the campfire. Tell scary stories if you want, but we recommend enjoying drinks and conversation while you lounge by the firepit after a long day. Nothing is better than the feeling of of a late-night fire crackling with laughter all around.
Private Outdoor Kitchen
At OneEleven you get a designer kitchen right in your home, but when you want to enjoy the fresh air while cooking a meal, you can reserve a private outdoor kitchen and dining room. Have a party with your friends surrounded by a great view during the Chicago summer. Grill up some Chicago franks or steak in the true Windy-City spirit.
Chicago is Best Viewed From Up Top
Your apartment already has a great view, but we all know Chicago is best viewed from up top. You will love lounging in the sun on top of OneEleven. Get great views of Chicago architecture and enjoy the breeze off the Chicago River.
Contact us to learn how you can get a OneEleven apartment and live life on top.