Chicago Blues Festival Jammin' Near OneEleven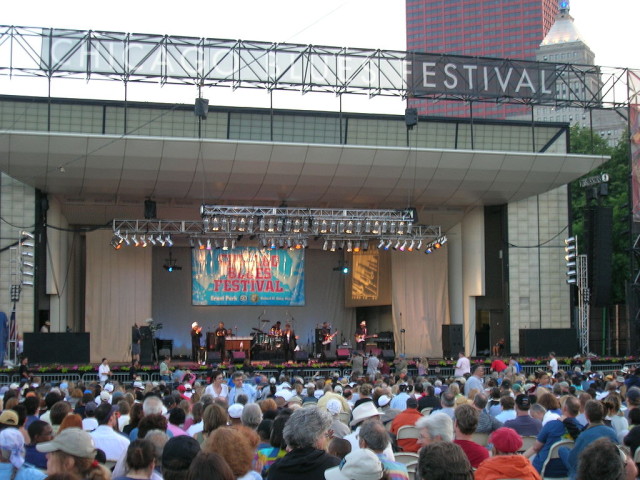 Chicago and the Blues go together like Chicago and baseball. Or Chicago and OneEleven Apartments. The history of the Blues in Chicago is long and ever growing. The 32nd Annual Chicago Blues Festival begins on June 12th and ends on the 14th. This historic festival is one of the largest blues festival in the world— and it's completely free! Taking place in Grant Park, the festival features some of the most talented Blues musicians in the world.
Tip: If you bike to the Festival you can enjoy a complimentary Kickstart drink and bike valet service from Mountain Dew. Plus, it's less than a 15-minute bike ride from your OneEleven apartment!
Let's take a look at what you'll experience at Grant Park this June:
Listening to the Legends
Clarence Carter is a blues legend. Born blind, he learned to play the guitar by the age of eleven and has been recording music since 1965. His top hits include "Looking For a Fox" and "Slip Away." His 1970 hit "Patches" was covered by B.B. King and George Jones in 1994. Don't miss the performance of this legendary musician on June 12 at 7 p.m. in the Petrillo Music Shell.
Buddy Guy is one of the most well-known Blues guitarists whose style mixes traditional Chicago blues with rock and roll. It wasn't until the 1990s that he really gained popularity with his albums. Eric Clapton, Jimi Hendrix, and Keith Richards have all mentioned Guy as one of their favorite guitarists. You won't want to miss this legend playing on June 13 at 8 p.m. at the Petrillo Music Shell.
Kenny "Beedy Eyes" Smith is a grammy award winning musician who grew up in the Chicago house where Muddy Waters lived. His father, Willie "Big Eyes" Smith is one of the best living Blues drummers in the world and was no doubt a big inspiration for his son. Experience Beedy Eyes playing on June 12 at 5:30 p.m. at the Jackson Mississipi Rhythm & Blues Stage.
Tributes to Willie Dixon and Muddy Waters will take place on June 14 at 6:20 p.m. and 8 p.m. at the Petrillo Music Shell.
Talking Blues
If you're interested in learning about the history of the Blues, there is a panel discussion with Richard Shurman on "100 Years of Blues Greatness" at the Budweiser Crossroads Stage on June 12 at 11:30 a.m.
Another interesting discussion on the "Essence of Soul Blues" is being hosted with Alex Thomas and Johnny Rawls at the Jackson Mississippi Rhythm & Blues Stage on June 13 at 11:30 a.m.
Check out the Festival's website for a full schedule.
Grab Something to Eat
With all the festival has to offer, you may find yourself spending the entire day there. Here are three places you can go to grab something to eat by Grant Park:
1) Grab some quick chicken tenders or wings at Exchequer Restaurant. You can also get some of their award-winning ribs or one of their mouth-watering entrees, including center cut pork chops and filet mignon.
2) If you want some Asian cuisine, stop by Hot Woks Cool Sushi for a sushi roll or some ramen. This sushi and Thai food restaurant will be perfect for a quick meal before heading back to listen to some more of the blues.
3) Grab a Chicago-style hot dog at Erik's Deli to refuel in-between jam sessions. This deli shop serves sandwiches, soups, and homemade chips that are sure to satisfy.
Contact us to learn more about getting a OneEleven apartment home of your own so you'll only be a short walk away from the best of what Chicago has to offer.
Image Source: Wikipedia